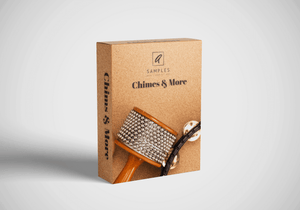 Chimes & More
Chimes & More, a collection of unique musical instruments, is an integral part of the renowned Khaliji Drums of Arabia Library. As such, it shares the same user interface as the main library. The good news is that you can download Chimes & More for free, even if you do not own the main library.


Throughout my 22 years as a composer, I have found myself frequently relying on instruments like these in my musical compositions. Occasionally, when time permits, I have the opportunity to record these instruments personally. However, more often than not, due to time constraints, I find myself turning to the virtual instrument libraries at my disposal. This reliance on libraries presented a challenge, as it limited the variety of sounds at my disposal, leading to a repetition of the same musical elements in my compositions. Some of my close friends even began to recognize my work solely by the recurring use of these sounds.
Motivated by this, I made a pivotal decision to record a diverse selection of these instruments and transform them into a versatile Kontakt instrument. To bring this vision to life, I enlisted the expertise of my friend, Idrees Albalushi, a seasoned session percussionist with an extensive collection of instruments.


Several years down the road, I made the decision to share these unique sounds with the global music community through Pianobook. After all, it's unlikely that anyone would engage a session percussionist solely to record a selection of shaker rolls for their music compositions.
---