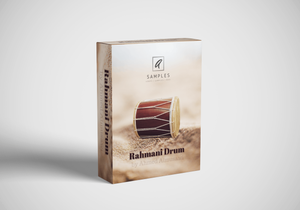 Rahmani Drum
The Rahmani Drum is the main instrument in Omani folk music. its a considered a bass drum type of instrument which is made out of wood and leather and mostly struck by hand and sometimes by a stick on one side or both sides depends on the genre.


There are 4 type of the Rahmani ,this particular one is used in Dhofar, the southern region of Oman and the other types are close to each other mostly but they come in different sizes and uses different type of leather and manufacturing techniques.

I sampled the instrument with 4 round robins and 4 layers to make it playable in any style and technique, and i'v used the same GUI of the Valencia tar with a different wallpaper which is the base of all my instruments.

You can find the instrument for Kontakt and Decent sampler in pianobook website and our website for free!


---