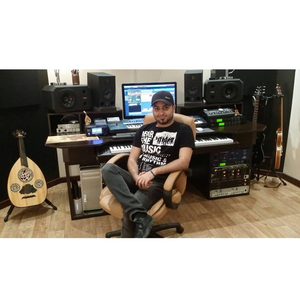 About The Founder - Ahmed Al Musawi
Let's get to know the force behind ASamples, Ahmed Al Musawi. He's not your ordinary entrepreneur; he's a sound sorcerer, an audacious music producer, an ingenious sound designer, and a versatile audio engineer. Oh, and he's also a TV and film composer with a keen ear for what makes music come alive. Hailing from the beautiful Sultanate of Oman, Ahmed is a name you'll want to remember.


The Ahmed Adventure 

Ahmed has been cooking up sounds for over 15 years, starting his audio journey back in 2001. His path has been adorned with numerous accomplishments, and he takes great pride in his work. Not to mention, he's had the pleasure of collaborating with big names like Oman Across Ages, Oman 2040 Vision, SalamAir, and Oman TV.



The ASamples Saga


Now, Ahmed's mission is to share his culture and his sounds with the world. He's a firm believer that music has this magical power to transport you through time and space. And what's magic if not shared? This is where ASamples enters the stage. It's Ahmed's brainchild, a place where composers, musicians, and DJs can scoop up his unique sample packs, featuring Arabian sounds and irresistible percussion loops.
ASamples is a rising star in the world of Sound Libraries, especially in the Middle East. Ahmed's goal is clear: he's here to give fellow music creators a taste of his cultural melodies, which, in his words, bring a different flavor to the Arabic soundscape. Ahmed is all about crafting his distinct style, not following the crowd. Creating music has always been a joy for him, never a chore.
Customer Care in Tune

Ahmed knows the importance of his clients' work. He understands that a project, no matter how small, is a big deal to the creator. As the first full-time music producer in his country, Ahmed is all about paving the way for others, giving them access to the music market. He offers top-notch recordings and a treasure trove of loops and samples, all at your fingertips.

The Future Sounds Bright

Looking ahead, Ahmed is cooking up projects like the Kontakt Sample Library, a treasure trove of Arabian samples, mainly percussion, collected from across the Arabian peninsula. It's exotic, it's original, and it's enriched with a section of Omani instruments straight from his homeland, a never-before-seen collaboration. Ahmed's excitement knows no bounds as he anticipates creating new libraries and unveiling fresh, unique sounds for the world to savor.

Get in Touch with Ahmed

If you're itching to work with Ahmed, don't hesitate! You can reach out to him at ahmed@almusawi-group.com or fill out the form on the ASamples website. This is your ticket to a world of captivating sounds and cultural melodies that Ahmed is excited to share with you.
---