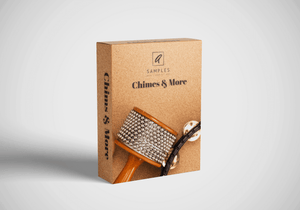 Chimes & More
Chimes & More are actually included in the main Khaliji Drums of Arabia Library (That's why it has the same GUI as the main library!), however you can download it for free if you don't own the library.




In my 22 years as a composer i find my self using these type of instruments alot, but sometimes i do actually record them when i get the chance. Most of the time i don't get the time to actually record them and i end up using whatever i can find in the libraries i own, but that happened to be problematic due the lake of variation in these sounds which made me use the same sounds over and over in my compositions till some friends of mine actually could tell that what they are hearing is my music because of these sounds!

One day i decided to actually record a bunch and turn them into a Kontakt instrument, so i called out my friend Idrees Albalushi as he is an experienced session percussionist and he has more instruments obviously. 
Few years later i decided to share these sounds to the world via Pianobook, Because lets face it! no one would actually hire a session percussionist to just record a bunch of shakers  rolls on his music!
---