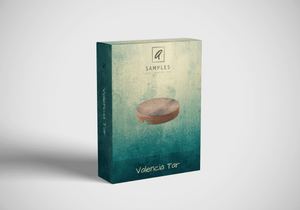 Valencia Tar (Frame Drum)
Several years ago, I embarked on a creative journey to bring Khaliji Drums of Arabia to life within the realm of Kontakt. It all began with a spark of experimentation and collaboration with like-minded individuals.
One pivotal day, my friend Idrees Albalushi visited my studio to contribute his exceptional percussion skills to a song I was diligently crafting. After the session, he left behind a remarkable instrument, the Valencia Tar. Inspired by this serendipitous encounter, I made a bold decision to sample this exquisite and unique frame drum, as an experiment to enhance the Khaliji Drums of Arabia collection.
The following day, another friend, Aljulanda Albalushi, graced my studio with his talents. Upon completing his recording session, I shared my idea to sample the Valencia Tar, and his enthusiasm led to an exciting collaboration.
With our recordings complete, I delved into the meticulous editing process, arranging and fine-tuning the samples. The moment I loaded them into an empty Kontakt instrument, the Valencia Tar resonated with captivating brilliance, solidifying its place in the world of musical exploration.
For some time, I left the instrument without a user interface, yet it continued to find its way into my compositions, becoming an indispensable part of my creative arsenal.
After a year, I decided to bestow the Valencia Tar with a user-friendly GUI, laying the foundation for all my future libraries. I introduced essential features like an EQ section, Reverb, Pitch shift knobs, and even a personalized wallpaper to maintain its aesthetic allure.
Another year passed, during which I refined the instrument with improved scripts. I shared it with friends for their input and feedback, and to my delight, they not only admired it but also incorporated it into their own musical projects.
The turning point arrived with the announcement of Pianobook, spearheaded by Christian Henson, the founder of Spitfire Audio. It was then that I resolved to share the Valencia Tar with the world, making it available as a free instrument for everyone to enjoy.
You can easily access and download this remarkable instrument for free, compatible with both full Kontakt and Decent Sampler. Elevate your music with the unique resonance of the Valencia Tar and embark on your own creative journey with this distinctive addition to your toolkit.
---